University of Nigeria
Project type:
Fun and games
In support of:
nothing, as far as I can tell
Description: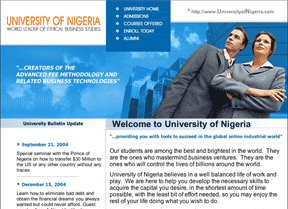 University of Nigeria
is a
faux
site
promoting the imaginary University of Nigeria, a great place to learn the finer details of "Nigerian 419" scams. You know what I mean -- an-e-mail that arrives one day, like this:
URGENT ASSISTANCE NEEDED
WITH ABSOLUTE TRUST IN GOD AND DUE RESPECT TO YOU, I WRITE YOU THIS LETTER WHICH I BELIEVE YOU WOULD BE OF GREAT ASSISTANCE TO ME AND WOULD KEEP THE INFORMATION CONFIDENTIAL AND PRIVATE. I AM MICHEAL SANKOH JUNIOR, A SON TO FODAY SANKOH, THE REBEL LEADER IN SIERRA LEONE WARRING FACTIONS. I AM ABSOLUTELY AGAINST THE UNENDING POLITICAL CRISES IN MY COUNTRY THAT HAS RESULTED TO MISSIVE DESTRUCTION OF HUMAN LIVES AND PROPERTY WHICH IS CURRENTLY IN THE WORLD NEWS. ON THIS LAST ASSAULT BY THE FORCES. I ESCAPED TO THE NETHERLAND THROUGH THE HELP OF UNITED NATIONS SOLDIERS WHO ARE THERE ON A PEACE MISSION. ON ARRIVAL IN AMSTERDAM, I WENT DIRECTLY TO THE ASSYLUM CAMP, TO SEEK FOR POLITICAL ASSYLUM, I WAS ACCEPTED, BEFORE THE WAR MY FATHER DEPOSITED THE TOTAL SUM $15.5 MILLION USD IN A REPUTABLE SECURITY COMPANY IN AMSTERDAM, AS FAMILY VALUABLES. TAKE NOTE THAT THE FUNDS WERE DEPOSITED AS FAMILY VALUABLES FOR SAFE KEEPING IN MY NAME AS THE NEXT OF KIN. I AM LOOKING FOR A RELIABLE AND TRUST WORTHY PARTNER FROM A DIFFERENT COUNTRY RATHER THAN THE NETHERLANDS WHO WILL ASSIST ME IN THE MANAGEMENT AND INVESTMENT OF THESE FUNDS IN A VIABLE AND PROFITABLE BUSINESS VENTURES...
Just give them your bank account numbers and lots of other personal information, pay a few unexpected advance fees, wait awhile, and... well, you've lost your bank account numbers, lots of other personal information, and (often) thousands of dollars of fees.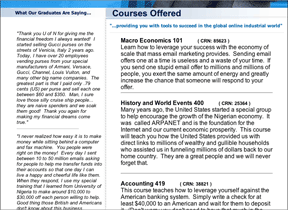 The
University of Nigeria
site is just as snarky as you'd expect it would be, with a class syllabus, alumni testimonials, admission information, and so on. It appears that Steve has been busy --
University of Nigeria
seems to be part of a family of sites by the same guy, including:
These sites aren't promoting anything, other than their creator, a guy named Steve Bedrosian. While they're nicely done, they're not very deep, and once you've seen one, you've sorta gotten the joke behind them all. But they're good for a quick laugh or two, and might be a good source of April Fools jokes for gullible friends.