Buy the DVD:
Buy the soundtrack at Amazon:
SEN5241 (for THX-1138)
Project type:
Movie / DVD promotion
In support of:
THX-1138 (re-release: enhanced directors cut and DVD) (Lucasfilm)
Description:
Subscribers to the mailing list for the upcoming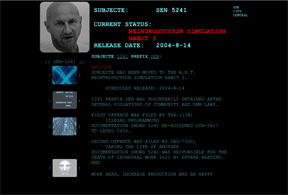 release of the enhanced version of George Lucas's
THX-1138
recently received the following e-mail:
From: subjecte@sen5241.net
Subject: SEN5241 RELEASE
To: <address>

SUBJECTE 5241 PREFIX SEN:
WILL BE RELEASED ON 2004-8-14

ALL COMMUNITY MEMBERS ARE BEING NOTIFIED
IN ORDER TO INCREASE PRODUCTION AND PROMOTE COMMUNITY WELLNESS.

BUY MORE AND BE HAPPY.
---------------------------------------
THIS IS AN OMM CREATED MESSAGE
A visit to
www.sen5241.net
produces a futuristic site, something akin to a case file for someone "named" SEN 5241. Given the site's references to THX-1138, the frequent appearance of "OMM" -- the computerized prophet in the movie -- and the fact that the person shown on the page is clearly Donald Plesance as he appeared in the movie, it seems pretty clear that this is a
faux
site to promote the (re)release of the movie.
A couple of other similarly-themed sites have been found from references within this site, such as
www.subcitycentral.net
-- the site for the central government for the THX world, perhaps? In addition,
people on unforum
are reporting getting coded messages about interest in SEN by "unidentified subjects" and warnings of dire actions to come.
So something is going on; exactly what remains to be seen.